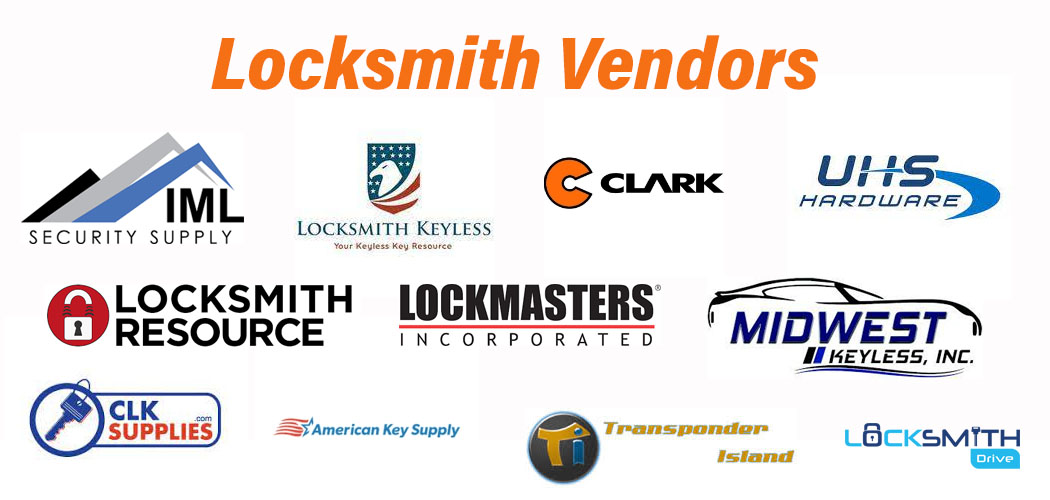 Locksmith Vendors
May-23-2022
by Locksmith Drive
A lot of you veteran locksmiths might have your operations and purchasing strategies all down, but we wanted to share some information about who you can purchase locksmithing parts and supplies from. We thought this might be helpful, especially if there is a new 'smithy' interested in entering the trade and was looking for some resources and vendors.
We are going to break our lists down into 2 groups. Vendors who supply all product categories including locks, keys, remotes, door hardware, parts, tools, machines, etc, and those vendors who only supply automotive keys and remotes, in no particular order.
General Locksmith Suppliers
CLK Supplies: https://www.clksupplies.com/
Clark Security (Anixter): https://www.anixter.com/
Lockmasters: https://www.lockmasters.com/
MBA USA: https://mbausa.com/
UHS Hardware: https://www.uhs-hardware.com/
IML Security Supply: https://www.imlss.com/
LockPicks.com by Brockhage: https://www.lockpicks.com/
Locksmith Keyless: https://www.locksmithkeyless.com/
Automotive Specific Suppliers
American Key Supply (AKS): https://www.americankeysupply.com/
International Key Supply (IKS): https://www.internationalkeysupply.com/
Locksmith Resource (LR): https://www.locksmithresource.com/
Transponder Island (TI): https://www.transponderisland.com/
MidWest Keyless (MWK): https://www.mwkeyless.org/
Yellow Key Supply (YKS): https://www.yellowkeysupply.com/
Keyless Ride: https://www.keylessride.com/
Car and Truck Remotes: https://www.carandtruckremotes.com/
National Auto Lock Service: https://michaelhyde.com/

This is a quick list of most of the major suppliers in our industry. If we missed one, please leave a comment to fill us in. Also, we would love to hear about who you like to buy from and why. Who carries the best products, provides the best customer service, or support after the sale? I know that in our locksmithing business we have bought from almost everyone listed above at one time or another. Usually, our decision of who to buy from is based on price, product availability and shipping time, customer service and support, but we would love to hear your feedback. Please leave your comments below.